Web services
Website development
Website development and SEO promotion with keywords. That's Astudio's main activity. Our team has successful experience in developing business sites and programming complex software. For each project, we give original logo design, author-focused web-design.
We carry web engineering from scratch, using custom PHP or Laravel, Yii, Zend, CodeIgniter frameworks, for more complex projects we use Node.js: Our Content management systems are handling, so you may save your time and nerves in working on it. Starting a partnership with us allows you to get long-term solutions for your project, and high-level service.
How do we create a website?
Compilation of the technical description of the site. Astudio takes complete responsibility for building a product starting with discussing your idea, analyzing it, and building a roadmap to execution, development. Following the discussion, the technical description will become an unseparated part of the contract. We consider your financial capabilities and try to find affordable tools for the best version of the project. We make the technical specification clear, so the customer that might not know programming terms can easily understand the concept. The technical specification helps the customer in monitoring the performance of all responsibilities.
Original design. We give creative solutions to your business ideas. We don't buy or steal design templates. In the process of making your website, we offer few versions of website design, presenting you the advantages and disadvantages of each of them. By ordering a website, you get a free logo from us.
Adaptive HTML programming. We guarantee quality HTML programming. And provide
Validated, optimized code with quick loading pages, and operative work:
Your web page is going to be developed by JavaScript technologies' interactive elements. For HTML adaptive programming we use Bootstrap technologies, for more compound projects we develop completely separate mobile versions.
Programming from scratch. HTML5, CSS3, PHP, Node.js, Ajax, SQL, MVC, OOP... You don't have to know these IT abbreviations. But as a future customer, we want to inform you that we use only the latest technologies and solutions. After the end of the project, we are ready to inspect the code.
Handy CMS. We develop easy to use CMS template, so the user, representative, or administrator can easily edit the page content without a programmer, it saves site maintenance budget.
High-level security. The most vulnerable sites around the world are famous ones and those developed on the CMS templates. These kinds of websites have limitations and "defects" that make websites insecure. According to security demands, we chose the policy of development by pure coding. Taking count the market structure and demands we program CMS software from scratch.
The industries we collaborate with.
Construction products and services
Online learning sites e-libraries
logistics, freight cost calculation
Travel sites, hotel business
Medical sites
Online stores, trading platforms of any complexity
Lack of funds for your web page? It should not affect the growth of your business. We make that on the credit. We set a page, then you grow the business, and you pay within 6-12 months (without bank intermediation).
The price of the development of the corporate website is up to the complexity of the project. The prices mentioned on our web page are the average prices of our done projects in 2022. We don't leave our customers to face a dilemma because of marketing tricks.
We provide:
Author design
Programming without CMS templates
Complete design of the website
Internal SEO optimization
Technical support
Website under the copyright protection
Quality contractual guarantee
Credit payments
Outsourcing services.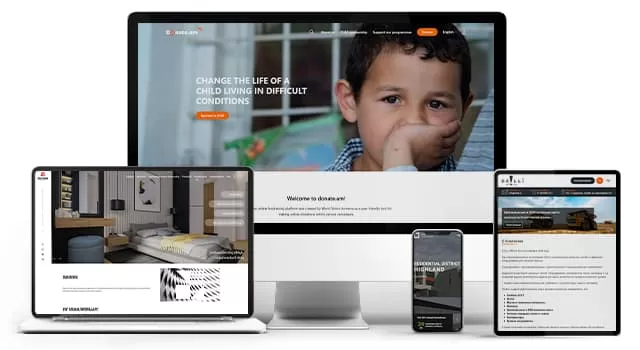 Business website creation
Average price: 2,400$
If your company doesn't have a web page, you are losing a mass of potential clients. We can assist you to make your business networking more effective. In Astudio we provide complex service for one year.
The price includes
1-3 Versions of author design
CMS by pure coding
Complete site design
Basic SEO optimization
Domain hosting for 1 year
Configurations for corporate e-mail.
Possibility of installment payment within 6 months.