Web services
E-commerce development
Astudio company offers an online shop development service, with handy trading tools and platform customizations.
Selling on online platforms is a smart way to reach a broader customer base without losing your own brand identity. Today having a web page is necessary because the development of e-pay systems and the desire of customers to save time make e-commerce platforms increase turnover more effectively. So by not having your products, it is possible to make an e-commerce platform and get real income.
Along with increasing the development of information technology the scale of venous requirements for online stores is increasing. It is already impossible to rent a page in a portal, fill in useless content, and think that you made an e-shop and hope that you can have success. The customer can distinguish a good shop from a bad one. It is an impact on customers' trust.
Our team is highly experienced to interpret your requirements and provide you with an online store accordingly. We work based on technical specification, with thought-out functions, without templates.
How to make a working online store?
Like any other product or service, the price of the e-shop development is up to the professionalism of the developer, time spent on the work, design, and other services.
Before being in a trap of discounts, each customer can analyze the formed price of the product. Astonishing low prices are the turnout of the developer's salary's economy, and time spent on the work, these are affecting the quality of done work.
For example, let's say professional freelancers' average salary is 20$, and by taking count that for the development of any e-shop 160 hour is needed, then without any additional services and SEO optimization, the development should cost 3200 USD. Of course, no company is paying developers 20 USD for an average e-shop. There are also other expenses, So the company must provide the necessary income level. So you are facing a dilemma.
Setting an e-shop on a template or working with a freelancer and with corresponding risks, either apply to a professional company.
In addition to all this Astudio provides multiple extra services.
Auto-download of the product
Counting programs integration
Price & balance synchronization
Internal SEO
Sometimes the customer thinks that if the company has developed dozens of websites, so can buy any template, change the design and sell at a low price. This is a very real and logical approach. Many companies are doing so, they buy designs developed by the HTML on 50-150usd, upload it in WordPress, Joomla, or OpenChart CMS, spend 16-24 hours working, take 1000USD and get 70% of an income. We don't save on quality. We only develop by pure coding, based on after-focused design.
Online-shop functionality
CMS programming from scratch
Full catalog control
Universal filter system
Adding Products and Management
Adding gallery pictures & videos
Auto download products
Auto download pictures
Price & balance synchronization
Trading tools
Client registration, cabinet page
Basket, order, payment system
1C synchronization
Delivery price calculator
Retail and wholesale price recount
Discount and bonus system
Accumulative systems
SEO tools
Automated meta-tag configuration
Automation of h1-h3 headings
URL configurations
In the process of e-shop development, we divide it into some stages, site catalog development, bucket & order connection, payment integration. You can make an e-shop within 9 months of credit.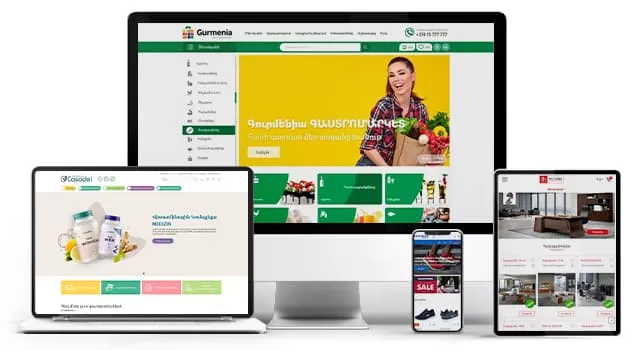 Online store development
Average price: 10,000$
Online store creation requires proper knowledge of programming languages, work experience, experienced project manager, SEO promotion professionals. Don't let your business become a testing ground. Work with experienced legally responsible web studios. Astudio made dozens of stores for various sectors.
We provide
2-4 versions of web-design
Technical design
CMS from scratch
Mobile version development
API integration
Basic SEO Optimization
Domain hosting for 1 year
Corporate e-mail configurations
Warranty service 2 years
Credit possibility within 9 months